Lancelot

Kanji

ランスロット

Romaji

Ransurotto

Personal Details

Age

15

Gender

Male

Height

158cm

Hair Color

Mousy

Professional Details

Affiliation

Occupation

Mercenary

Rank

Unknown

Voice Actors
First Appearance

Manga

Anime
Lancelot (ランスロット, Ransurotto?) is a member of the Paulklee Guild and is always seen alongside Arthur.
Appearance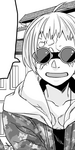 Lancelot always wears goggles that shields his eyes. There are also scars up and down Lancelot's body. Like most Paulklee members, Lancelot is seen wearing a camo jacket with a black shirt underneath, black capris, Twilight tags and combat boots. He has a bowl style haircut, that goes down onto his forehead.
Personality
Background
Plot
Abilities
Lancelot appears to be quite fast and he forms a dangerous team alongside Arthur.[1] However, he does appear to be a little reckless possibly due to his young age and relative inexperience.
Weapons
He wields small canisters that contain an explosive flammable liquid.[1]
Quotes
Trivia
References
↑ 1.0 1.1 GANGSTA. Manga — Chapter 42. Cite error: Invalid <ref> tag; name "abilities" defined multiple times with different content