Welcome
You wanna get rid of someone? Nicolas and Worick your two neighbourly gangsters also known as "Benriya" are for hire!
Hello and welcome to the GANGSTA. Wiki, the wiki dedicated to documenting everything about the GANGSTA. manga by Kohske. With over 10,754 edits since September 2011, feel free to jump in and fix whatever of the 180 pages you know of. Be mature, polite and help out!


Thanks!
---
Beware, this wiki is full of SPOILERS! You've been warned!
Plot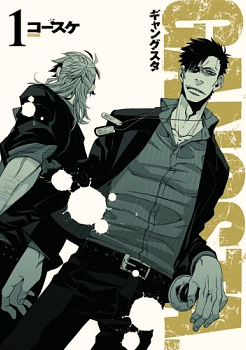 GANGSTA. follows the lives of Worick and Nic, a duo called Benriya (meaning "Handymen") that operate in the alternate history city of Ergastulum. Rife with racial tension between humans and the superhuman "Twilights", Ergastulum's uneasy balance is maintained by three ruling families and the Paulklee Guild. Benriya operate independently, taking jobs from both the mafia and the police.
When the police hire Benriya to kill a pimp named Barry and his prostitute Alex, what will they do?
Contribute to the GANGSTA. Wiki!
To maximise your editing experience sign up and create a personal account or, if you already have one, then log in and get editing!
If you're a Wikia newbie, please use the below links to get started and feel free to practice edits in the sandbox.
---
---
To create a new article relating to GANGSTA., use the box below to create it: <createbox>width=30</createbox>

Be sure to read up on the wiki's various policies, guidelines and wiki-wide projects so you can enjoy editing!
---
---
Check out the community portal to see what the community is working on, to give feedback or to just stop-by and say hi!
Featured Article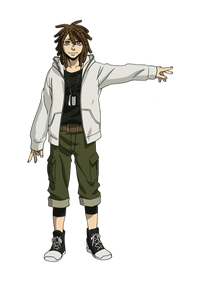 Doug (ダッグ, Daggu) was a high ranked Twilight of the Paulklee Guild. Originally from South Gate, Doug was brought to Ergastulum while he was still a young Twilight. He quickly became one of the guild's toughest fighters. Violent, sadistic when needed, childlike and short, Doug had all the features necessary for an assassin. However, later on, he ended up befriending Benriya and Nina. He was killed by Colt during the ambush on the Guild.
Main article: Doug
External Links
Visit other places that hold content on the GANGSTA. series!
Affiliated Wikis
If you would like to become an affiliate of the GANGSTA. Wiki

contact us

.
Latest Chapter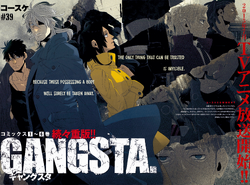 As Worick notes that he always hated a particular side of Daniel Monroe, Marco and Striker begin their fateful reunion. Meanwhile Galahad determinedly continues fighting against Colt. Having realised the events that would soon occur in Ergastulum, a solemn Worick begins his plan to put a spanner in the works...
Latest Episode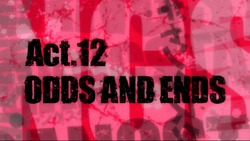 Alex has some disturbing visions of her past, Nic is called to help "Bastard" and Marco is confronted by his demons. Meanwhile, at the Monroe mansion, a familiar face rampages in search of the boss...
Wiki News
Welcome to the GANGSTA. Wiki! Have a look around and get stuck in editing! All help is appreciated!
Unfortunately, the anime adaptation of GANGSTA. has come to an end... but we hope it returns in the future!
Featured Picture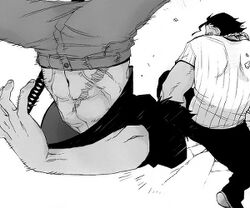 "Guess who's behind you..."
Featured Quote
"
Well then, Mr. Elephant or the Golden Balls... which one should go first?
"
GANGSTA. Wiki Poll
Check out the extra poll!
GANGSTA. Wiki Poll Results
I asked who your favourite Twilight was and you answered! I probably shouldn't have added Nic to the poll because he's obviously your favourite! And so the winner is Nicolas Brown Delico!!

Hahaha here are the full poll results:
| Position | Who's Your Favourite Twilight? | Votes | Percent |
| --- | --- | --- | --- |
| 1st | Nicolas Brown | 131 | 75.29% |
| 2nd | Delico | 14 | 8.05% |
| 3rd | Doug | 11 | 6.32% |
| 4th | Ginger | 8 | 4.60% |
| 5th | Veronica | 4 | 2.30% |
| 6th | Galahad Woehor | 3 | 1.72% |
| 7th | Erica | 2 | 1.15% |
| 8th | Gina Paulklee | 1 | 0.57% |