Veronica
Personal Details

Status

Unknown

Gender

Female

Hair Color

Black

Professional Details

Affiliation

Unknown

Voice Actors
First Appearance

Manga

Anime
Veronica is a Twilight whose past is shrouded in mystery. She lived with the Benriya at one point in time.
Appearance
Edit
In all her appearances Veronica has looked bruised and beaten and is covered in bandages. She has black hair set in a bob-cut and she very vaguely resembles Alex. At some point Veronica lost her right arm above the elbow and kept the stump bandaged up.
Personality
Edit
In every flashback Veronica is shown to be virtually expressionless. She appears to have known sign language.
Background
Edit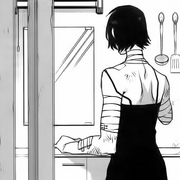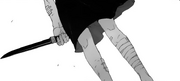 Very little is known about Veronica. She is a mysterious Twilight woman that once resided at Benriya with Nicolas and Worick. Gina uses Veronica as a cautionary example when warning Nicolas about the dangers of overdosing on Celebrer uppers.[1] At some point after Nicolas and Worick met her, Veronica's right arm was severed above the elbow, though the circumstances of the injury are unknown.
It is believed that the terminally ill girl in Big Mama's brothel is Veronica. Although this has yet to be confirmed or touched upon.
Several characters say that Nicolas is responsible for her supposed death.
References
Edit
↑ GANGSTA. Manga and Anime — Vol. 2 Chapter 10 and Episode 05.
Community content is available under
CC-BY-SA
unless otherwise noted.